Dolly Gee
Awesome Woman of the Week: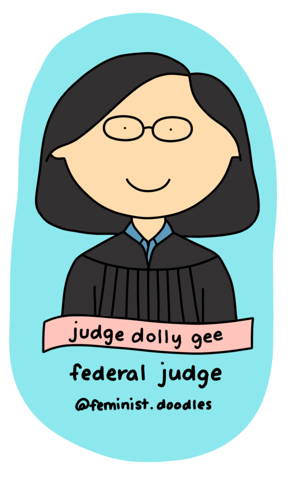 Dolly Maizee Gee is the first Chinese American woman to serve as a federal judge.
As the daughter of Chinese immigrants - her father, a World War II veteran turned aerospace engineer and her mother, a garment worker - Dolly has always been inspired, especially by her mother, to pursue a career in labor law. Dolly earned a Bachelors of Arts from the University of California, Los Angeles in 1981 and a Juris Doctor from University of California, Los Angeles School of Law in 1984.
After completing her JD, Dolly served as a law clerk for District Court Judge Milton Schwartz for two years before entering into private practice with Schwartz, Steinsapir, Dohrmann, & Sommers, eventually becoming a partner in 1990.
As a lawyer, Dolly specialized in labor law, protecting the rights and responsibilities of workers by advising on contracts, negotiating benefits and severance packages, and investigating allegations of misconduct and discrimination. One of her biggest labor law cases was settling a class action lawsuit against the Walt Disney Company that ensured lifetime post-retirement health benefits for over 6,000 retirees and active employees.
In addition to her advocacy for workers' rights and labor unions, she used her skills and education to become involved in other social issues, including working with activists opposing government efforts to end affirmative action, and working pro bono to support victims of civil unrest following the 1992 beating of Rodney King by police.
In 1994, Dolly was appointed by President Clinton to serve a five-year term on the Federal Service Impasses Panel in Washington, DC - a federal labor relations authority that handles disputes and arbitrations.
When her term ended in 1999, President Clinton nominated Dolly to be a judge on the United States District Court for the Central District of California. However, at that time, Republicans had control over the US Senate and blocked her nomination.
10 years later, in 2009, another seat on the United States District Court for the district became vacant, and Dolly was nominated for the seat by President Obama. On October 15, 2009, the United States Senate Committee on the Judiciary referred Gee's nomination to the full Senate. On December 24, 2009, the Senate confirmed Gee by unanimous consent.
On March 19, 2010, Dolly Gee was finally inducted to California's branch of the United States District Court, making her the first Chinese American woman to serve as an Article III Judge. Her mother, Helen, who inspired her journey into labor law was there to assist with Dolly's enrobing.
Keeping Families Together

In June 2018, the Trump administration requested that the U.S. District Court for the Central District of California modify the Flores Agreement, which sets the standard that the government can't hold immigrant children in custody for more than 20 days. In practice, per the agreement, the government would release the whole family after 20 days to limit separation.
Trump and Republicans in Congress, moved to have children kept with their parents in ICE custody while awaiting criminal prosecution and deportation - which, when families fight to claim asylum in the US, can take months or even years.
On July 9, 2018, Judge Gee rejected a request to modify the agreement, calling it "cynical attempt...to shift responsibility to the Judiciary for over 20 years of Congressional inaction and ill-considered executive action that have led to the current stalemate." In her decision, she called for discretion from the prosecution and warned that indefinitely detaining children is a "fundamental and material breach" of the Flores Agreement.
In June 2020, Gee ordered that migrant children held longer than 20 days must be released, saying that the Trump administration had failed to protect children and families who were being detained during the pandemic.
Impact on the Legal Profession

Dolly Gee has not only had an impact through her legal work and rulings, but she has also made strides to create space for Asians Americans and promote diversity in the practice of law.
Dolly helped to establish the Multicultural Bar Alliance in 1991, a coalition of 18 women and minority bar associations in the LA area that encourages collective action and common ground across communities in the fight against racism.
Later, she co-founded the Asian Pacific American Bar Association, which is now the nation's largest Asian Pacific American membership organization and represents 60,000 attorneys, judges, and law students.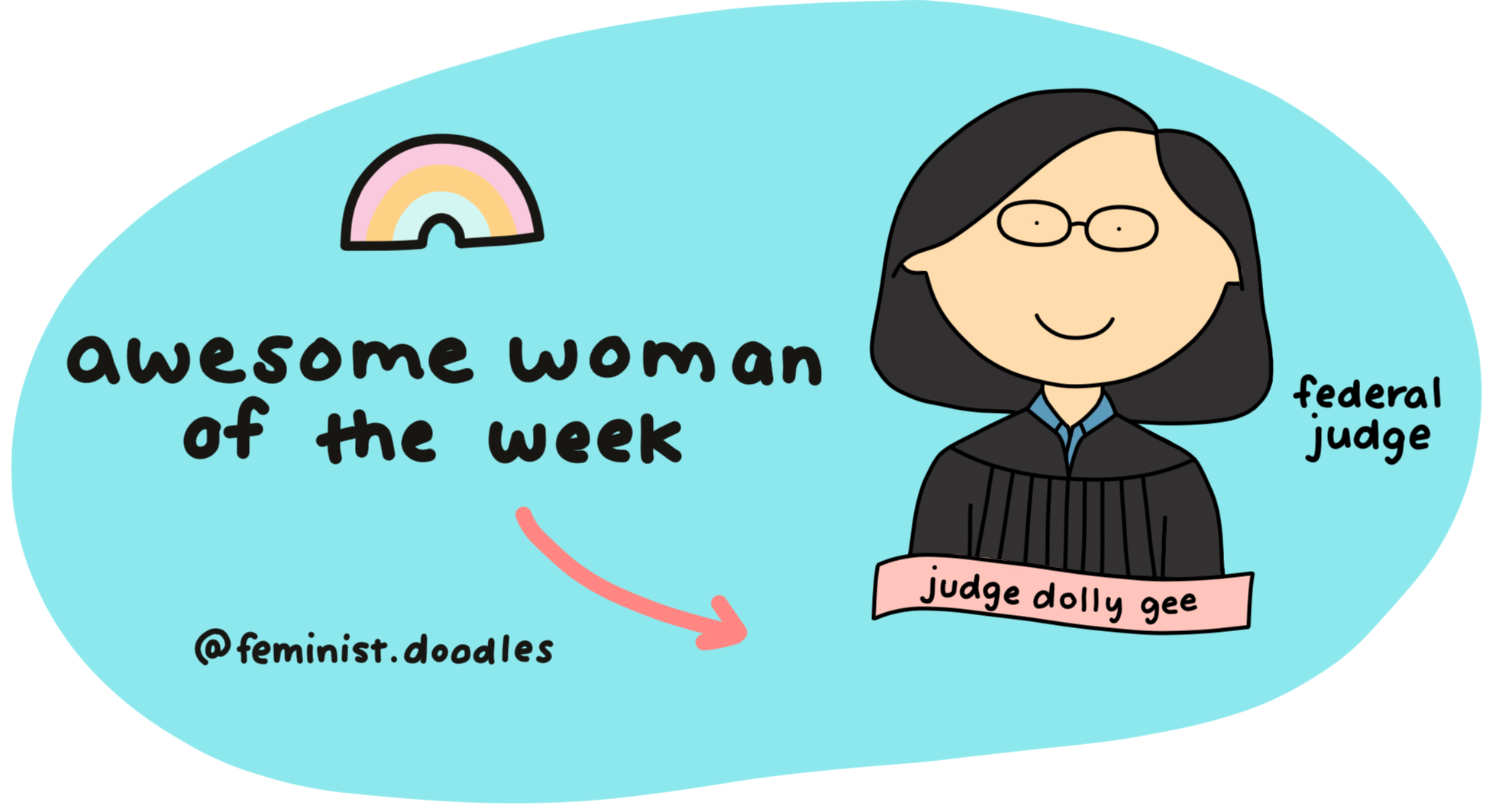 Want More Awesome Women Each Week?

https://www.nytimes.com/2019/09/27/us/migrant-children-flores-court.html#:~:text=Under%20the%201997%20consent%20decree,them%20in%20secure%20detention%20facilities.
https://www.cacd.uscourts.gov/honorable-dolly-m-gee
https://www.nytimes.com/2018/06/21/us/immigration-judge-executive-order-trump.html
https://www.courthousenews.com/judge-finds-order-to-release-immigrant-children-now-unenforceable/
Want to learn about more awesome women?

Join the Feminist Doodles
Awesome Woman of the Week Newsletter!
Meet a brand new woman in history or politics every week - delivered straight to your inbox!